21
This
64-bit WD17+ (WinDev)
project is intended to perform real time audio capture of anything playing on your PC.
The DLL itself is written in C++.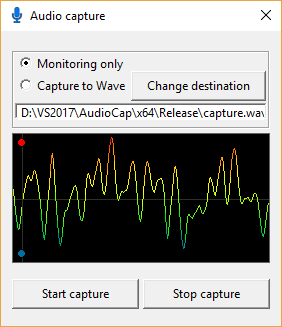 While it could be used to record from the microphone,
the best quality is achieved when using a
multiplex
audio card and recording from the "
Stereo mix
" device.
How to Use AudioCap:
Start AudioCap.
Start playing a movie (with a sound track) or a local or internet audio file (streaming).
Press the [Start capture] button, to see the oscilloscope PCM WIMDATA curve.
Check "Capture to Wave" if you want to create the "capture.wav", or check "Monitoring only" if you want to see only the peak level.
In "capture to Wave" mode, a WAVE/PCM 44000Hz stereo file is saved in the selected folder.
Note : The demo version of AudioCap64.dll limits the WAVE record to 30 seconds.
How to get the full version:
You can download the full C++ project from
codeproject
or from this
link
.
And you can also make a donation to get the DLL without nag screen and record limitation.
Donation:
If you like this project
Click here to make a donation
Or you can also use:
paypal.me